Chocolate, yoga, birding and more. This is what we have been up to the past few months. Macaw Lodge and Macaw Kakau continue to grow, provide experiences, and sustain the vision of the brand. We believe in creating connection to Nature and we are happy to share our news and pictures of our recent events with you!
CHOCOLATE FAIR: WE PARTICIPATED ONCE MORE
This June 2022 we participated in the sixth Chocolate Fair in San José with our iconic chocolate brand Macaw Kakau. It was a pleasure and a great experience to participate another year for multiple reasons: reconnecting with chocolatiers from other parts of the country, promoting our brand and new products, and exposing ourselves to the public.
Yorleny comments:
'We gathered and connected with so many people. That's what fairs and expos are for. It took place June 4th and 5th at 'La Antigua Aduana', translated as 'Old Customs', a big building located at the corner of Barrio Escalante. The purpose is to meet other cacao fanatics, or people who also love chocolate. We intended to meet people, and for people to meet us. We want the public to know where we are, what our products taste and look like, and to find new clients, even business partners. It's a unique experience. There was a lot of social interaction, which is very different than life at Macaw.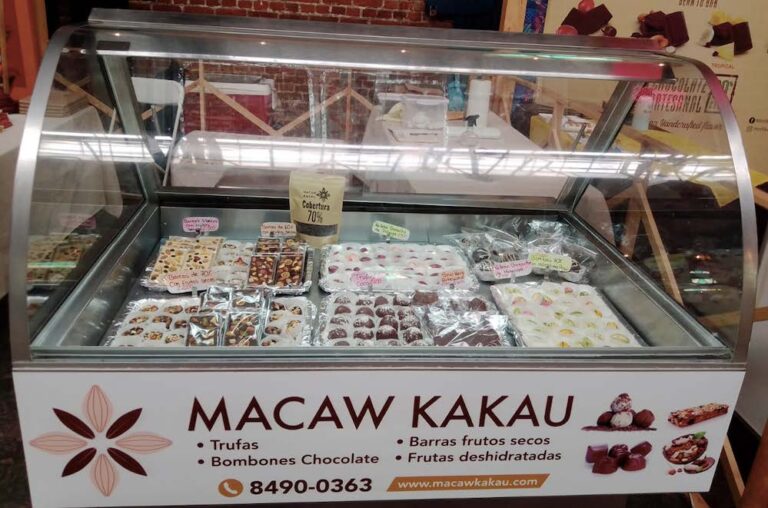 The competition was interactive with the public, as they participated using a QR code. Our famous Café don Roberto at 60% won third place in the 'natural flavors' category. People are now into more natural flavors, organic, fresh, tasty. Chocolates with artificial flavors like added vainilla scents or fake orange candy are no longer sought out. Separately, we brought a new ginger flavor without package, permits and so forth. Freshly made. From our grounds. It was a success! We are hoping to be selling this ginger chocolate soon.'
MAIN YOGA DECK EXPANSION: WE MADE IT BIGGER AND NICER
Our yoga deck just got bigger! It's exciting to share with you some pictures and tell you about the bigger space for yoga we created. Our main deck, close to the lagoons and gardens, has additional 50 meters squared, almost 540 square feet extra. Thanks to this new build, it now fits 35 to 40 people. The pool next to this new space is one of our favorite elements: it adds fluid sound, a repetitive and soothing rhythm, and a general sensation of tranquility. To our garden views, we added a white lotus. Just planting this, we are waiting for the flowering, for that beautiful short moment. It symbolizes Peace and it is exactly the universal message we want to bring and create. Stay informed and wait for our news about upcoming yoga and wellness retreats in our social media: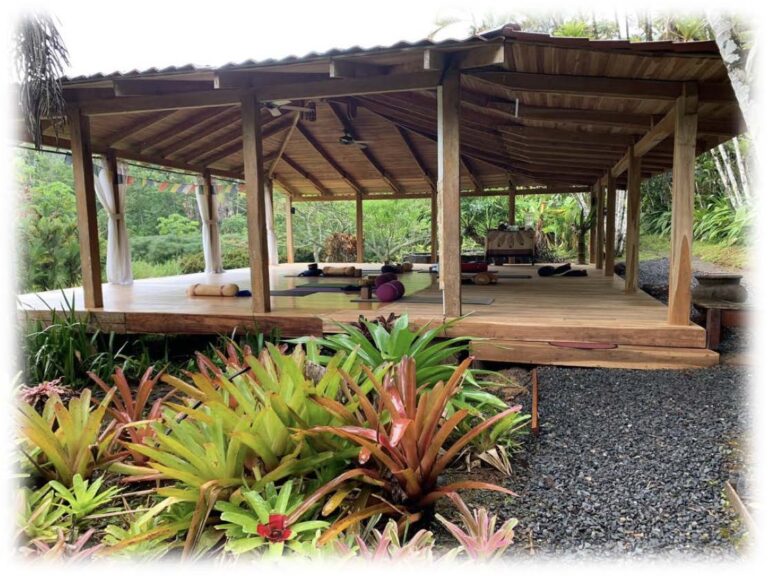 GLOBAL BIRDING DAY: WE COUNTED MANY SPECIES OF BIRDS ON OUR PROPERTY
'We woke up around 3:00 AM, leaving San Mateo to arrive and start birding at Macaw around 5 towards 5:30 AM. Right before the entrance of Macaw, we spend the first minutes looking at different species. It's a forest that is a bit more dry, more like Carara National Park. Once you enter Macaw, it is way more humid. The species you will spot are different. By the bus stop, almost before the entrance, we spot our first birds.
It was four of us that spent the whole day looking, searching, spotting, watching, counting. We managed a total of 119 species. We came number 14 out of 15 in Costa Rica. My favorite species to see is Pysaetus tyrannous, a small eagle. If not, the green ibis. A species that is not so rare, but here in the Pacific is hard to find. According to literature, and the database Ebird, it's rare to see in this part of Costa Rica. But Macaw, yes, it's here. Five or six months ago, you could se it in the lake as if nothing. Here are some pictures. We saw it near the river. So yes, the green ibis is amazing to watch. It's not common in this area.
What I love the most about birding at Macaw is that there are so so many species to watch. In 60 minutes, you can watch 60 types of birds. From this point of view, it's beautiful. You can see so many in such little time. Clearly after such spaces, the rhythm is not as impressive. The same restaurant can reveal a lot, a long list. It's a combination, it's a transition forest, with one part dry and another part humid. Or the Green Ibis, it's not Pacific, it's not Caribbean.
It has the advantage that this open area, you can find such a big variety and diversity of birds. There is also the area of primary forest near the waterfall. The volume of birds gets lower, but the rarity, the least common ones, in this part of the forest. Let's say, that Macaw Lodge is a birding space for any type of birder: beginners, who do not know much and are happy watching the easier more accesible kinds, and experts, who love the challenge, the hidden, the rare.'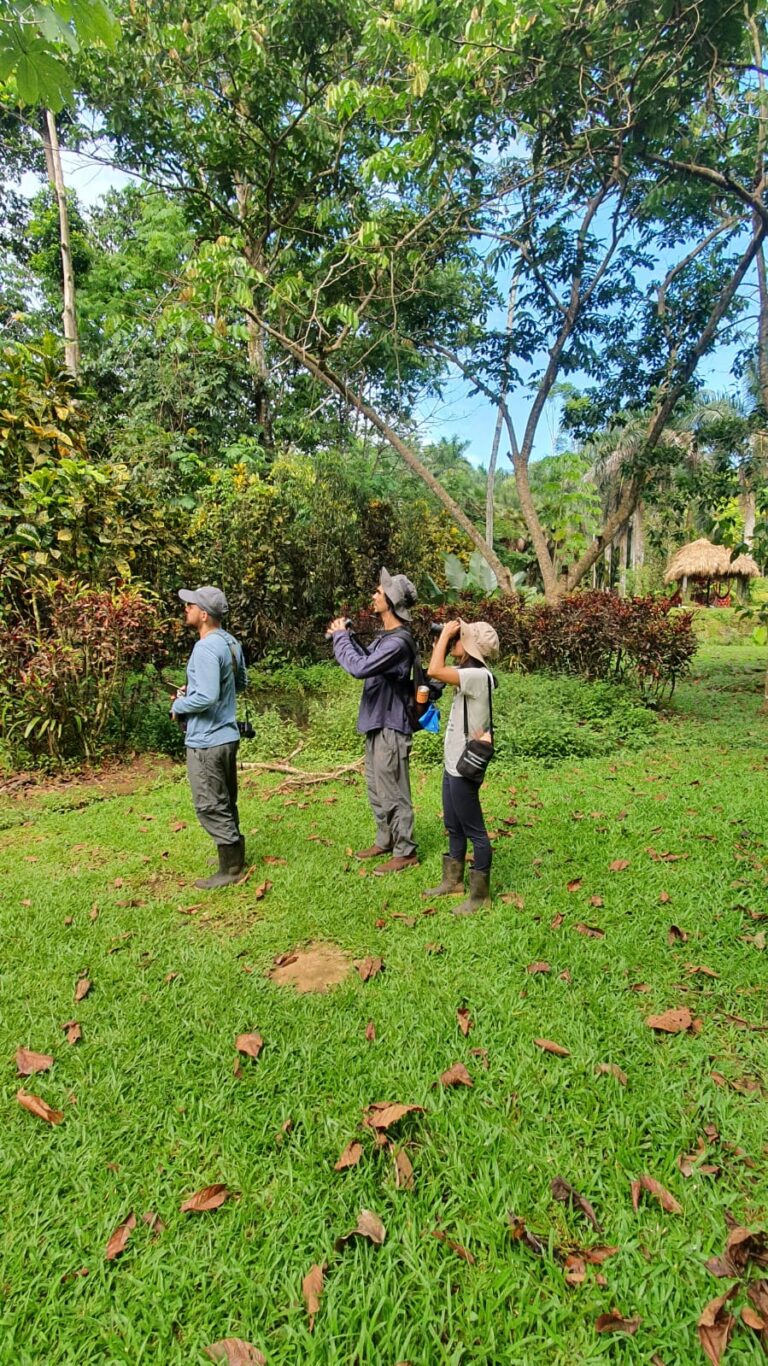 Ready to visit? To plan your travel and your stay, please feel free to reach out to us:
Email: [email protected]
Whatsapp: +506 8762 9090
Phone: +506 8310 9073
Written by Gabriela Mateo