Connecting National Parks, yoga and Cacao Tour
Northwest Chocolate Festival 2023, La Ruta de Conectividad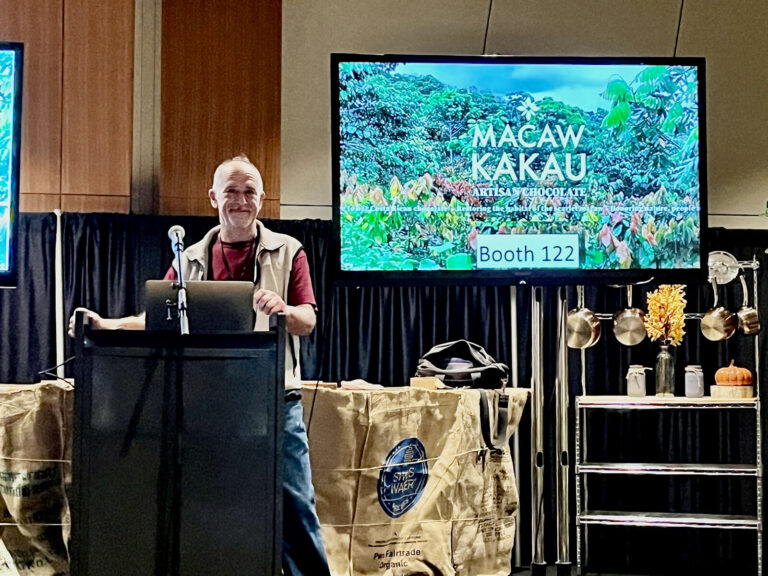 Macaw Kakau had the honor of participating for the second consecutive year in the prestigious Northwest Chocolate Festival, representing Costa Rica alongside two other prominent Costa Rican companies. Together, we shared a unique booth to promote our country as a group, and the result was an experience filled with harmony and camaraderie that left a significant impact on the festival, highlighting the importance of biodiversity in cocoa.
Among the various activities we carried out, Macaw Kakau had the privilege of delivering an inspiring talk about an innovative project called the "Connectivity Route." This project is based on previous studies and aims to create a biological corridor between two iconic national parks in Costa Rica: La Cangreja National Park and Carara National Park. These protected areas have remained disconnected for decades, and through forest and watershed conservation, as well as natural regeneration and the implementation of agroforestry systems with cocoa in degraded and fragmented areas, we seek to achieve the long-awaited connectivity.
Our goal with the Connectivity Route is to go beyond the realm of studies and turn it into a concrete project, thanks to the collaboration of various actors from civil society, government organizations, foundations, non-governmental organizations, investors, and experts in the development of nature-friendly production models. Together, we will work tirelessly to make this vision a reality and demonstrate that it is possible to combine economic progress with environmental protection.
In summary, Macaw Kakau's participation in the Chocolate Festival was a resounding success. Not only were we able to promote biodiversity in cocoa, but we also took the opportunity to spread awareness about our valuable work in creating the Connectivity Route. We are excited about the future and committed to continuing to drive initiatives that unite nature conservation with sustainable development.
A magical weekend retreat at Macaw Lodge
Since 2012, I have had the pleasure of hosting retreats at Macaw Lodge, my favorite place in the entire country. Here, I find silence, a deep connection with nature, and unparalleled customer service.
From September 1st to 3rd, I had the pleasure once again of offering a healing and inner work retreat, with meditation, yoga, sound therapy, and workshops focused on personal growth.
We enjoyed every moment of the lush landscape, finding peace as we meditated among bromeliads and lotus flowers. During the nights, we were delighted by the orchestra of frogs and cicadas. The staff greeted us with smiles and kindness, and the healthy food was exquisite. All of this and more is what Macaw Lodge offers: a natural sanctuary ideal for reconnecting, resting, and replenishing with positive energy.
Thank you, Macaw Lodge, for treating us like family. We look forward to returning soon with more Pranaluz retreats.
At Macaw Lodge, we offer our guests a variety of tours during their stay, including the fascinating Cocoa Tour. What makes this experience unique in the country is that we are producers of fine flavor cocoa and chocolate artisans.
Our tour begins in our agroforestry plantations, where we cultivate endangered species. Here, visitors will learn about the ecology of cocoa and its relationships with other species, gaining an understanding of the importance of biodiversity in cocoa cultivation. Additionally, we will share the history of cocoa in Mesoamerica and its significance in the different cultures that cultivated it. From the Toltecs and Olmecs, through the Maya civilization and its ceremonial use, to the Aztec culture and the arrival of the conquerors, cocoa has undergone changes in its use throughout history.
During this wonderful cultural journey, participants will have the opportunity to learn about the preparation of cocoa beverage. In a highly interactive manner, our visitors will be able to take part in the grinding process using a metate, separate the husks, roast the beans, and make the beverage, using the ingredients that our ancestral cultures used.
In the final part of the tour, participants will enjoy a chocolate tasting, where they can sample different percentages of cocoa and chocolates with various flavors.